I am a Certified Professional with the Professional Pickleball Registry (PPR) and a Certified Instructor with the International Federation of Pickleball (IFP). I am also an active tournament player and frequent medalist at the 5.0 and Senior Pro levels, and I'm a 3-time selection to the Oregon Team Cup. I have a passion for coaching pickleball and I stay current on the latest pickleball strategies and techniques.
I offer instruction to players of all ages and abilities - for people new to the sport and those looking to elevate their games for tournament play. Prior to playing pickleball, I played several other sports competitively, including collegiate tennis. In addition to coaching pickleball, I have coached multiple youth sports.
I am based in Eugene, Oregon and I am the resident Pickleball Teaching Professional at Eugene Swim and Tennis Club (ESTC), I am sponsored by Engage Pickleball and I'm a board member of the Emerald Valley Pickleball Foundation.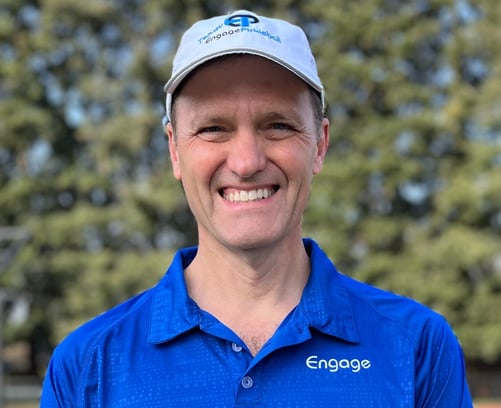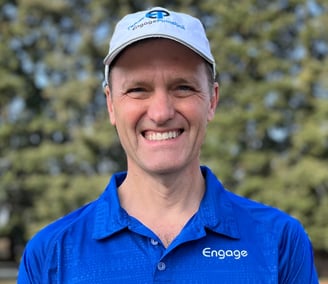 Drill and Strategy Clinics
One hour lessons for 1-4 people are a fantastic way to get specific, personalized instruction on shot technique, shot selection, and strategy (doubles and singles). Whether you would like one lesson to work on a specific skill, or a series of lessons to continue to improve over time, I am here to help you achieve your goal. For lesson rates, see the Eugene Swim and Tennis Club site.
I run clinics for groups of 4-8 players with a similar play level (e.g., 3.0, 3.5, 4.0). During these clinics, I will guide players through drills to elevate their skills and take them to the next level of play. Examples of some of the skills include: dinking, volleying, how to move your opponents around, when and how to attack, third shot drop, third shot drive, transition resets, serves, and returns.
A typical session is 1.5 hours long. During the first hour, we focus on drills to improve skills. In the final 30 minutes, the players play doubles and I will provide strategic guidance to help improve your doubles play.
"Three and me" (or "Play with the Pro") is a fantastic format for a group of three players to improve their doubles play. I will join a group of three for 90 minutes of play. This allows each player to get personalized feedback on strategy, positioning, shot selection, and decision-making. In addition, time can be spent on developing new shots and fostering doubles partnerships.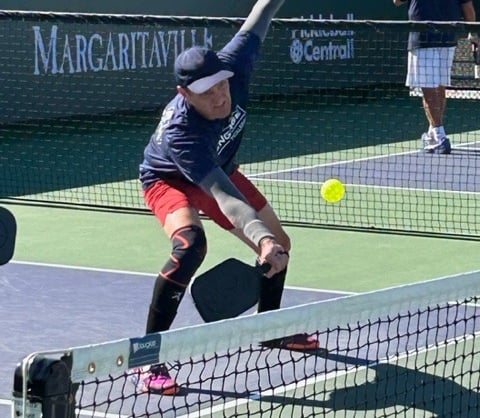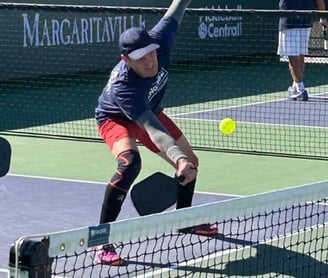 Here's What My Clients Say
"I highly recommend Eric Wold as a pickleball coach. Not only is he a pro pickleball player himself, but Eric is also a knowledgeable, experienced, and incredibly patient coach. He gives personalized instruction and feedback which has really helped me improve my skills and confidence on the court. I appreciate his positivity and the way he is always encouraging me to work harder. This makes the lesson enjoyable and fun. Eric always gives well-organized and thoughtfully planned out lessons. He breaks down complex techniques into simple, easy-to-understand concepts. I can't recommend Eric enough!"
- Margaret H.
When I picked up a pickleball paddle for the first time, I instantly knew I was going to love the sport. Shortly thereafter, I found Eric and began taking lessons from him. I've learned so much from Eric in just three months and have continued to progress thanks to his teaching. Eric does a good job of working on fundamental skills and also adding in new skills when appropriate. He is very patient and has a great sense of humor. His passion and excitement for the game make him an excellent instructor. Each lesson with Eric is so much fun that I'm constantly looking forward to the next one and can't wait to practice what I've learned with my friends. Simply put, Eric is amazing!"
-Jennifer C.
"Eric is a valuable asset in my pickleball career. He not only is an excellent player, but a knowledgeable coach. He cares about improving your game. His drills and insights have helped me develop my game when I was a poor 4.0 player. Thanks to Eric and his drills, I am playing and medaling in 4.5/5.0 events. He is a wonderful pickleball ambassador and an amazing pickleball coach. Thank you, Eric! I am still planning to be that one student of yours who beats you!"
-Omar A.
"I feel very fortunate that I have Eric as a pickleball teacher. He is an expert player, but more importantly for me, he is an expert teacher. He offers a nice blend of ease and humor combined with a professional and dedicated teaching style. Working with him as a beginner, he is able to teach me the foundation skills with an eye towards the next step, which keeps it interesting with just the right amount of challenge. I feel fully at ease with him and look forward to lessons as they are immensely helpful and, very importantly, they're fun. I have private as well group lessons. He has my highest recommendation, couldn't be higher."
- Pat S.
"You're such a good teacher and coach, Eric! Thanks for getting me started. You are really good at watching a student and finding the little technique improvements that will teach or elevate performance. You have a great coaching sequence, teaching the techniques in parts to build up to the whole game."
- Ike S.
"I've had the pleasure of taking individual lessons with Eric. I commend him on his professionalism, technique, and commitment. He provided me with insight into every aspect of the game—mental, physical, and technical. His method is individualized, so he was able to correctly identify my strengths and weaknesses. Using this information, he developed specific strategies geared to my unique needs. Eric's an incredibly supportive person and his encouragement made every lesson enjoyable and productive. In short, he's a fantastic teacher with an infectious excitement for the game. I'm quite sure Eric's presence as a person and instructor will be an asset to anyone looking to improve their game."
- Nancy B.
"Eric's training style is very insightful, which makes it easy to focus on the parts of your game that really need work. The one-on-one lessons have really improved my fundamentals, they get my heart rate going, and are also fun. Great combination!"
- Derek J.
Use Discount Code 20Wold to get 20% off Engage paddles (and other Engage products) when purchased directly from Engage Pickleball.